El gran Radley Metzger, aka Henry Paris, recibe el tratamiento real en uno de sus títulos XXX.
Distribpix Presents Radley Metzger's The Private Afternoons Of Pamela Mann 2-Disc Special Edition 8/22/2011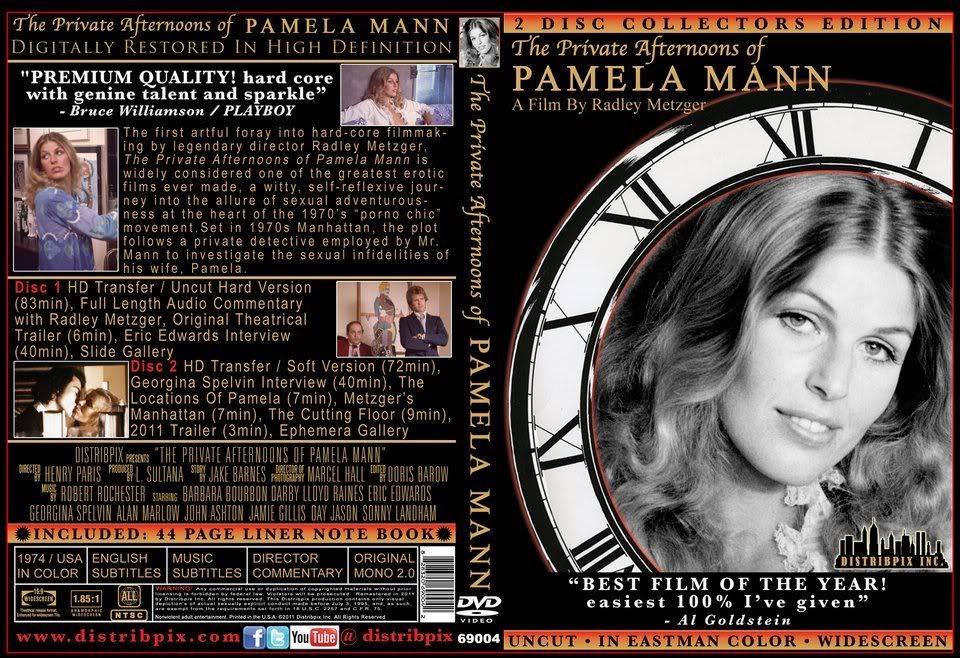 Street Date: August 22,, 2011.
Video Format: 1.85.1 Anamorphic Widescreen
Audio: English Language Dolby Digital Mono
Subtitles: English
Distribpix Inc. is very proud to announce the inaugural offering in their exclusive Henry Paris series which represents definitive editions of the adult films of Radley Metzger. The Private Afternoons Of Pamela Mann, restored in high definition from the original 35mm blow up negative and completely uncut for the first time ever on DVD, arrives August 22, 2011 in a director approved two-disc special edition loaded with an unprecedented amount of supplemental material which presents the film in its proper historical context.
The film that Al Goldstein called 'the best film of the year' in 1974 tells the story of a private detective named Frank (Eric Edwards) who is hired by Mr. Mann (Alan Marlow) to investigate the infidelities he believes his wife, Pamela (Barbara Bourbon), to be involved in. Frank's job takes him on a tour of New York City but also finds him becoming more and more interested in the woman he's being paid to follow.
Made with the same flair and style that director Radley Metzger employed in established softcore classics like Score and The Image, his first adult film The Private Afternoons Of Pamela Mann, is erotica for the discerning cinema fan, a perfect blend of arthouse sensibilities and a keen eye for the sensual and the sublime. Featuring a host of top tier talent from the golden age of adult filmmaking, the film also stars Darby Lloyd Rains, Georgina Spelvin, Sonny Landham, Marc Stevens and Jamie Gillis.
In their ongoing quest to preserve the legacy of the golden age of adult movies, Distribpix has made every effort to document and explore the history of this important masterpiece of erotica, sure to appeal to adults of all ages, male and female alike. Metzger's unique brand of erotic cinema has gone on to legendary acclaim from critics and fans alike. By focusing more on story and production values as much as on the sex itself, his filmography stands the test of time as some of the most mature and beautifully made adult motion pictures in history.
Disc One:
- All new restored HD transfer of the UNCUT hard version (83 minutes)
- Audio commentary with director Radley Metzger and adult film historian Benson Hurst
- Music commentary track detailing the history and stories behind the score
- 'Eric Edwards: A True American Actor' 40 minute interview/featurette
- Original theatrical trailer
Disc Two:
- All new restored HD transfer of the soft version (72 minutes)
- 'The Legendary Georgina Spelvin' 40 minute interview/featurette
- 'The Locations of Pamela Mann' now and then location comparison featurette
- 'Metzger's Manhattan' featurette with never before seen location and test footage
- 'The Cutting Floor' collection of never before seen outtakes and rare deleted scenes
- 2011 DVD release trailer
- Ephemera Collection of vintage magazine and newspaper articles and print memorabilia
- Still gallery of color and black and white production stills from the Metzger archives
Also included inside the deluxe packaging is a full color 44-page booklet, 'The Story Of A Classic' which includes essays from Benson Hurst, Ian Culmell and Lawrence Cohen providing detailed insight and analysis into the history and cultural significance of this film and the people who made it. The first 1000 copies will also include a limited edition 5 x 7 photo insert of beautiful leading lady Barbara Bourbon and one of her baby tigers, reproduced from vintage 1974 ad campaign materials.
UNTIL FURTHER NOTICE THIS LIMITED EDITION IS AVAILABLE EXCLUSIVELY THROUGH VIDEOXPIX.COM.
ENLACES:
http://www.rockshockpop.com/forums/content.php?1726
https://distribpixblog.wordpress.com/
http://thepiratebay.org/search/pamela+mann/0/3/500
http://www.myarchives.net/showthread.php?10759
RADLEY METZGER en HD - POST OFICIAL DEL FORODVDMANIA @
http://www.forodvdmania.com.ar/phpBB3/v ... 25&t=53237
Esperemos que llegue a otros canales de distribución que no sean VideoPix.com muy pronto.