Estuve mirando Naked came the stranger y World of Henry Paris que las tenía en formato .AVI y me sorprendió gratamente la primera.
La historia de Naked Came the Stranger comienza con la novela homónima, que fue un experimento periodístico para demostrar cuan bajo había caído la comunidad literaria en esa época. El único requisito era que los capítulos fueran vulgares y pobremente escritos. La novela tuvo creo que 24 autores y se publicó bajo el nombre falso de Penelope Ashe.
El libro era tan obsceno y vulgar que debió haber sido un fracaso, pero no, fue todo un éxito. Incluso llegaron a presentar a una de las autoras femeninas de la novela como la verdadera Pemelope Ashe en programas de TV y radio.
Finalmente ellos mismos contaron que fue todo un engaño y eso solo produjo que las ventas subieran, al punto tal que finalmente se les planteó hacer una película sobre el mismo.
En definitiva Naked Came the Stranger, la película, fue la adaptación de un Best-Seller y una demostración de hasta donde podían llegar artisticamente las películas para adultos.
Es una película divertida aún sacándole las escenas de hardcore. O sea, sin esas escenas, parece una película común y corriente, filmada en un montón de lugares reales de la ciudad e inclusive hay una escena en donde viajan en un colectivo de dos pisos rojo como los que hay en inglaterra.
World of Henry Paris no es una película, sino simplemente una especie de collage de sus 5 películas XXX. No vale la pena.
Pero me encantaría en algún momento poner mis manos sobre estas ediciones doble discos de Pamela Mann y Naked... y viendo que van de manera cronológica, la próxima sería Misty Beethoven sino me equivoco. De esa tengo el DVD original y es muy mala la calidad de imagen, es 4:3 y bastante VHSosa. Ver:
http://10kbullets.com/reviews/opening-o ... hoven-the/
NAKED CAME THE STRANGER
(2 DISC DVD EDITION)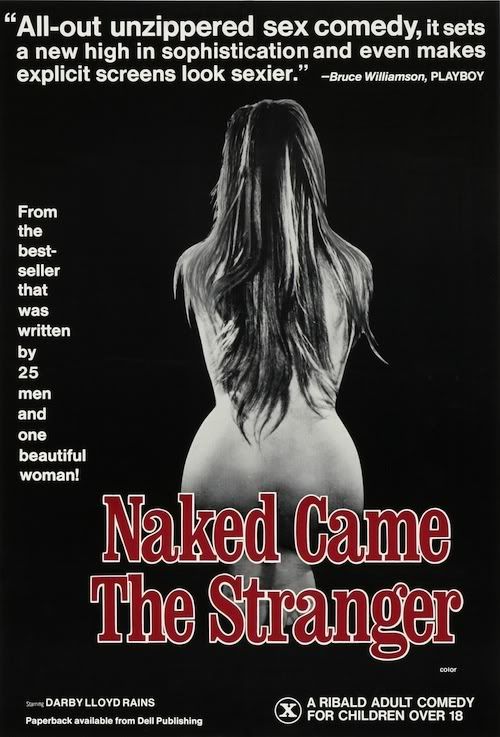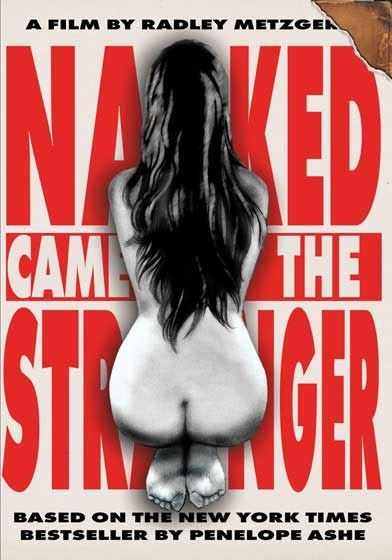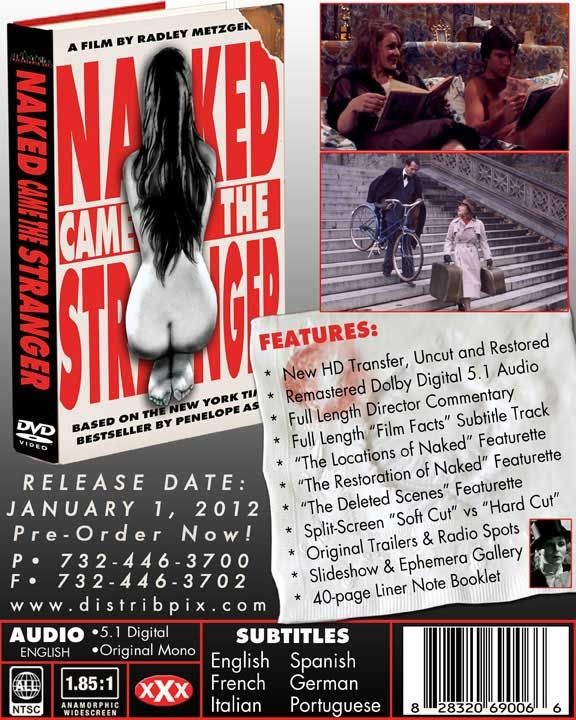 In 1969 a group of writers from Newsday decided to each contribute a chapter to a book under the single nom de plume "Penelope Ashe" that would parody the trashy "literature" that was burning up the bestseller lists at the time. They tried to make it vulgar and void of any literary value but that didn't stop it from being a smash hit even after the hoax was uncovered. A few years later, after his highly regarded The Private Afternoons of Pamela Mann, Radley Metzger aka "Henry Paris" –his hardcore pseudonym– would tackle the project with his flair for sensual artistry.
To kick off the new year 2012, Distribpix/VideoXPix is releasing a brand new, fully uncut 1.85:1 widescreen HD transfer of the film with remastered Dolby Digital 5.1 audio as well as the original mono soundtrack. They are packing the all region DVD with a shit-ton of supplemental extras as well. This is going to be the end all, be all release of this legendary classic. Pre-order yours now, it will hit the streets January 1, 2012… HAPPY NEW YEAR!
Disk Extras:
- Director commentary with Radley Metzger
- "Film Facts" optional subtitle track
- Featurette: "The Locations of the Naked"
- Featurette: "The Restoration of the Naked"
- Deleted scenes
- Split-screen "Soft Cut" vs. "Hard Cut"
- English, Spanish, French, German, Italian and Portuguese subtitles (SI, TRAE SUBTÍTULOS EN ESPAÑOL)
- Original trailers and radio spots
- Slideshow and ephemera gallery
- 40 page liner note booklet
EXTRAS REVIEW:
Extras for this release include a trailer for the naked 'soft' version of the film (3 minutes 21 seconds – anamorphic widescreen), trailers for The Private Afternoons of Pamela Mann (5 minutes 59 seconds – anamorphic widescreen) and Maraschino Cherry (5 minutes 52 seconds – anamorphic widescreen), radio spots for Naked Came the Stranger and Maraschino Cherry, a slideshow with stills from the film, a segment titled 'Ephemera Gallery' which is a collection of vintage reviews for the film, six minutes of deleted footage – that was shot for the soft core version of this film, a seven minute segment titled 'Locations' that shows how locations from the film look today, a fifteen minute segment that shows the differences between the hard core and soft core versions of the film, a nine minute segment that shows the extensive restoration that went into this releases transfer, a English subtitle trivia track that gives a thorough overview about the cast, locations, the score, props that appear in the film and various other production related topics and a audio commentary with screenwriter / director Radley Metzger and adult film historian Benson Hurst.
Topics discussed in the audio commentary include a brief recap of The Private Afternoons of Pamela Mann, shooting films in super 16mm, the novel from which Naked Came the Stranger was adapted, the cast and rehearsing with them, mixing humor with erotica, why he choose to film a sequence in black & white, several of the film's key set pieces are discussed in depth, the film's distribution and commentary ends by setting up the next Henry Paris film The Opening of Misty Beethoven.
It should be noted that a brief capsule review with Jim Holliday and a audio commentary with of Jim Holliday and Shayla La Veaux, that appeared as part of VCA's DVD release for Naked Came the Stranger has not been ported over for this release. The lack of its inclusion is not that big if a loss since Shayla La Veaux seems lost through out and they don't make any mention of the numerous cuts that befall VCA's DVD release.
Other extras include a forty page booklet with liner notes that was written by Benson Hurst, Ian Culmell and Lawernce Cohen, who discuss the film, the music and critical analysis, respectively. a Darby Lloyd Rains post card and promotional inserts for planned future Henry Paris releases and how to order a CD that features various music selections from all of Henry Paris's films. Overall this is another exceptional release from Video X Pix, who continue to give films from adult cinema's Golden Age their definitive home video releases.
CAPTURAS: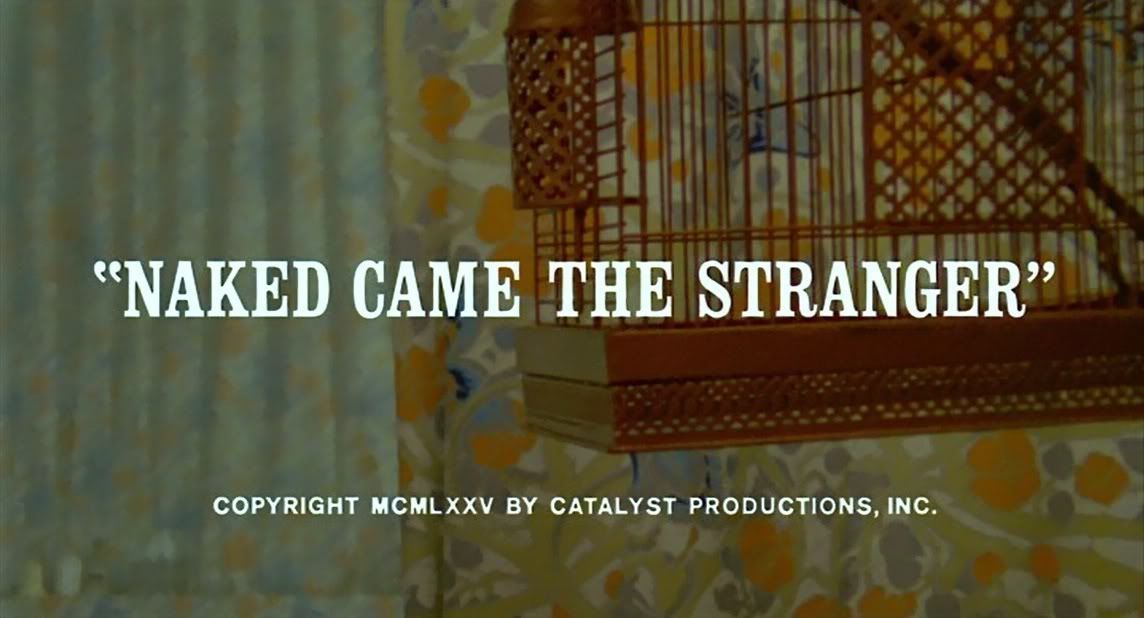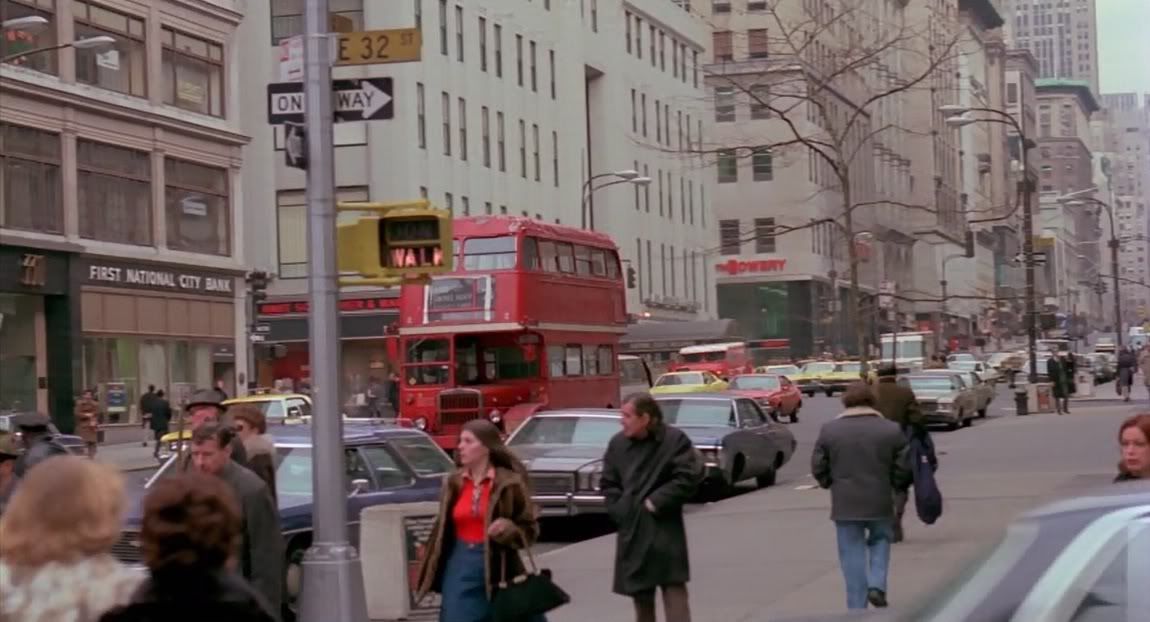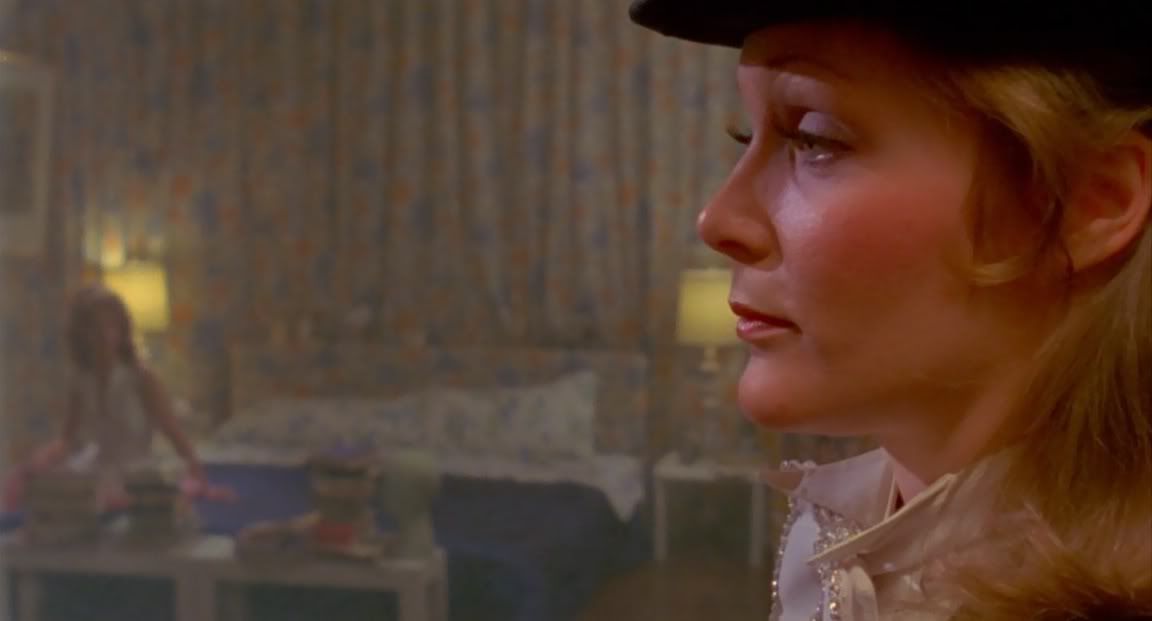 ENLACES:
http://10kbullets.com/reviews/n/naked-c ... deo-x-pix/
http://www.cinesploitation.com/tag/radley-metzger/
http://www.cinesploitation.com/metzgers ... ng-to-dvd/
http://mooninthegutter.blogspot.com/201 ... anger.html
http://twitchfilm.com/reviews/2012/01/d ... ranger.php
http://www.rockshockpop.com/forums/cont ... e-Stranger
OTRAS:
http://www.rockshockpop.com/forums/tags ... ey+metzger
Radley Metzger's The Private Afternoons of Pamela Mann (1974) @
http://mooninthegutter.blogspot.com/201 ... ns-of.html
Pamela Mann @
http://www.rockshockpop.com/forums/cont ... Edition%29
Ahora me falta conseguir y ver Maraschino Cherry, al menos hay una excelente reseña aquí:
http://mooninthegutter.blogspot.com/201 ... adley.html
DVD Review @
http://10kbullets.com/reviews/m/marasch ... ollection/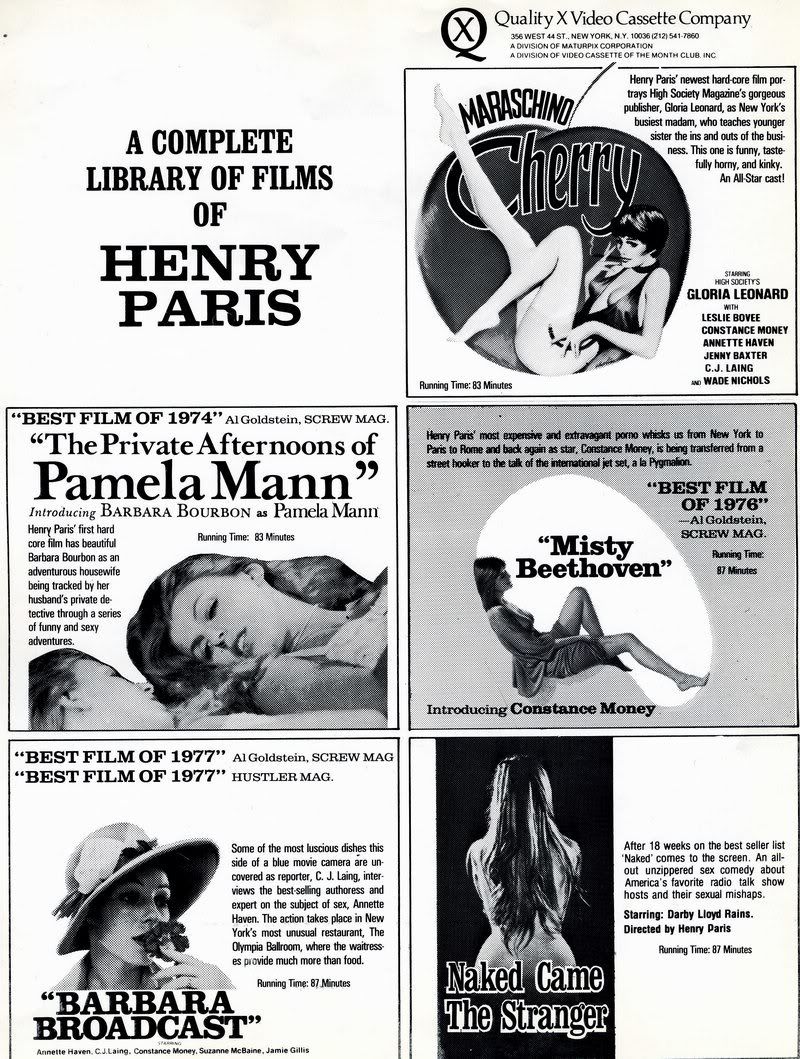 BLOF OFICIAL DE LA DISTRIBUIDORA:
http://distribpixblog.wordpress.com/
Tapa y contratapa del DVD de Maraschino Cherry (1978)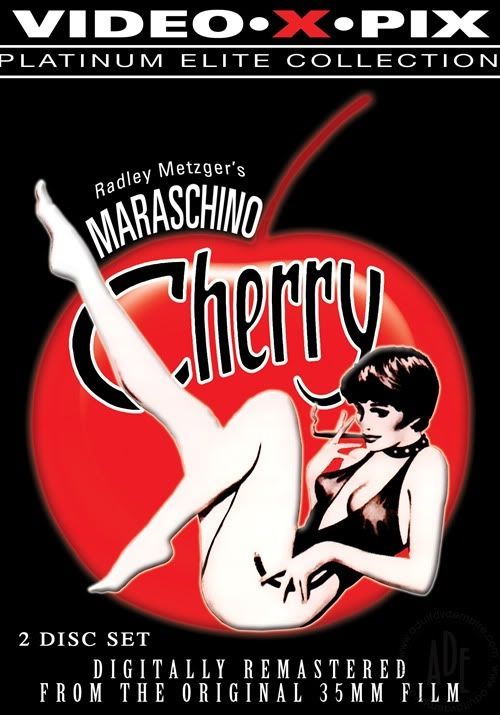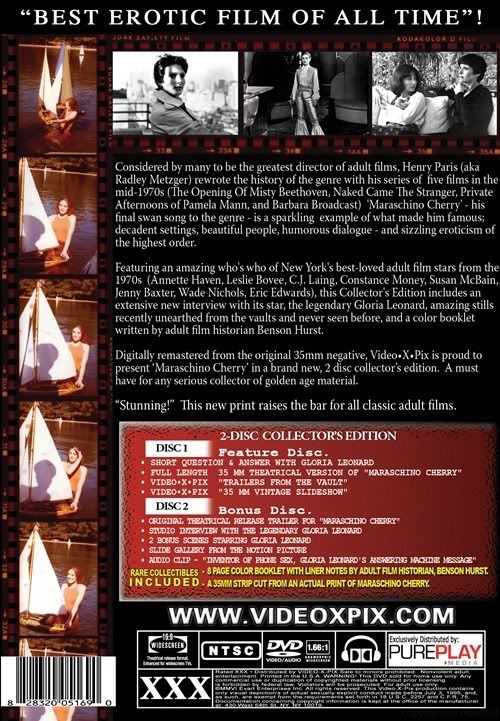 http://www.adultdvdpacific.com/maraschi ... 95043.html
http://www.adultdvdempire.com/boxcover/ ... ovies.html
El de Naked... en DVD Empire no lo tienen.
Pero...
http://www.adultdvdpacific.com/naked-ca ... 52873.html