Antes de dirigir películas tan conocidas como Los incorregibles albóndigas (Meatballs, 1979) o Cazafantasmas (Ghostbusters, 1984), Ivan Reitman rodó esta producción de bajo presupuesto, un filme plagado de canibalismo, chicas, humor negro y sobretodo caspa. La historia gira en torno a una pareja que por circunstancias de la vida van a parar a un extraño pueblo, allí encuentran un restaurante donde sirven un menú algo "especial", por el título de la película ya os podeís imaginar el ingrediente principal de ese menú. El argumento es algo que está muy visto, aunque quizás fuera una de las primeras películas con ese tema. Como curiosidad decir que entre el reparto figura un joven Eugene Levy, para los que no os suene el nombre deciros que es que interpreta al padre del que se folla la tarta en "American Pie", si no le reconocéis buscad en el trailer un tipo con pelo a lo afro y bigote. Fuente:
http://iveldie.blogspot.com/2007/05/tra ... -ivan.html
Cannibal Girls
(1973) DVD Z2 UK - Director IVAN REITMAN
FECHA DE LANZAMIENTO:
14 DE FEBRERO DE 2011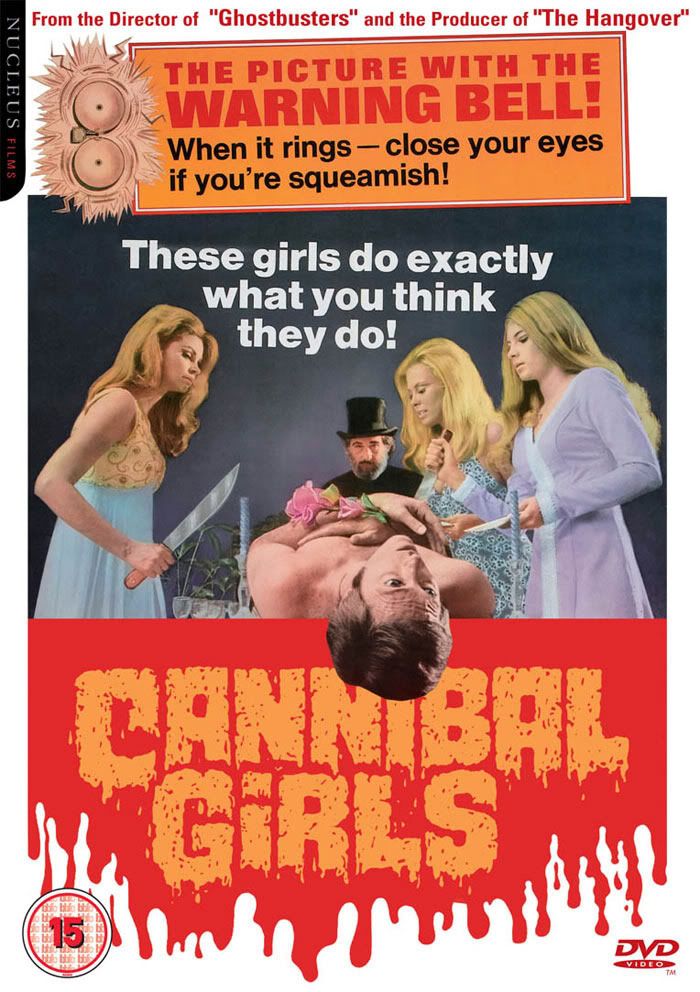 Nucleus Films have announced the UK DVD release of Cannibal Girls on 14th February 2011. Eugene Levy and Andrea Martin star in this Canadian horror spoof as a couple on a romantic holiday who settle into a quaint little bed-and-breakfast run by a trio of flesh-eating ladies who fancy them for tomorrow's menu. Directed by Ivan Reitman (Ghostbusters), this 1973 cult classic can is released uncut in a remastered and restored collector's edition.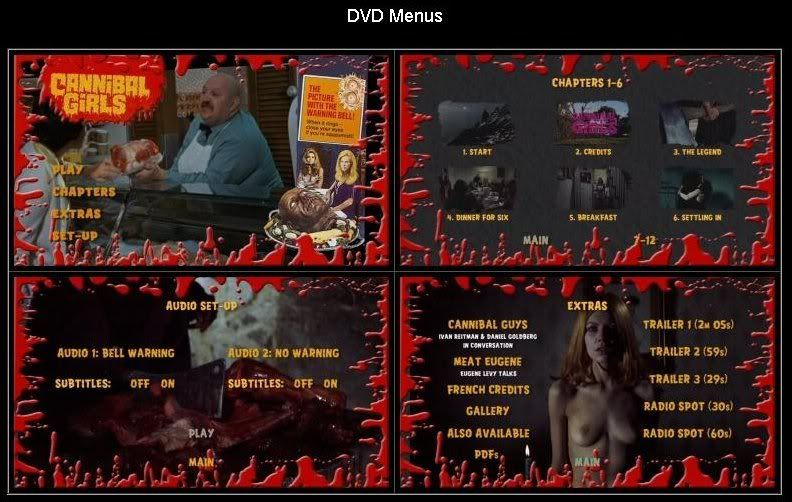 * VIDEO: Anamorphic Widescreen (1.85:1 from a new HD master)
* AUDIO: Alternate "Bell Warning" Audio Track
* SUBTITULOS: Optional English Subtitles for both audio tracks
EXTRAS:
* CANNIBAL GUYS - interview with Ivan Reitman and Daniel Goldberg (16:9; 26:47)
* MEAT EUGENE - interview with Eugene Levy (16:9; 19:40)
* French Credits (4:3; 3:22)
* Still Gallery
* U.S. Trailer (16:9; 2:05)
* U.S. Trailer 2 (16:9; 0:59)
* U.S. TV Spot (16:9; 0:29)
* Radio Spot (0:30)
* Radio Spot (1:00)
* PDF 1: Making of CANNIBAL GIRLS (from Take One magazine)
* PDF 2: AIP Pressbook
* Trailers for VIDEO NASTIES: THE DEFINITIVE GUIDE, GHOST STORY, VARIETEASE, TEASERAMA, BLOODBATH AT
* THE HOUSE OF DEATH, and DEATH SHIP
COMMENTS:
Nucleus Films' progressive, anamorphic, dual-layer DVD is sourced from the same HD master as the US release (which I have not seen). This extremely low-budget film is incredibly grainy and has some damage (Nucleus did some digital repair to a frame tear during the first murder) but the colors are bold, as are both English audio tracks (the English subtitles for the "warning bell" track make note of its occurrences).
CAPTURAS:
[img=http://img204.imagevenue.com/loc128/th_82808_cannibal_girls_nucleus_dvd_cap01_123_128lo.jpg]
[img=http://img101.imagevenue.com/loc419/th_82813_cannibal_girls_nucleus_dvd_cap03_123_419lo.jpg]
TRAILERS:
FUENTE:
http://homecinema.thedigitalfix.co.uk/content/id/73496/
cannibal-girls-r2-in-february.html
DVD REVIEW:
http://www.dvdbeaver.com/film3/dvd_revi ... _girls.htm
Amazon.co.uk:
http://www.amazon.co.uk/gp/product/B0041LK1SK/
Cannibal Girls
(1973) DVD Z1 USA - Director IVAN REITMAN
FECHA DE LANZAMIENTO:
26 DE OCTUBRE DE 2010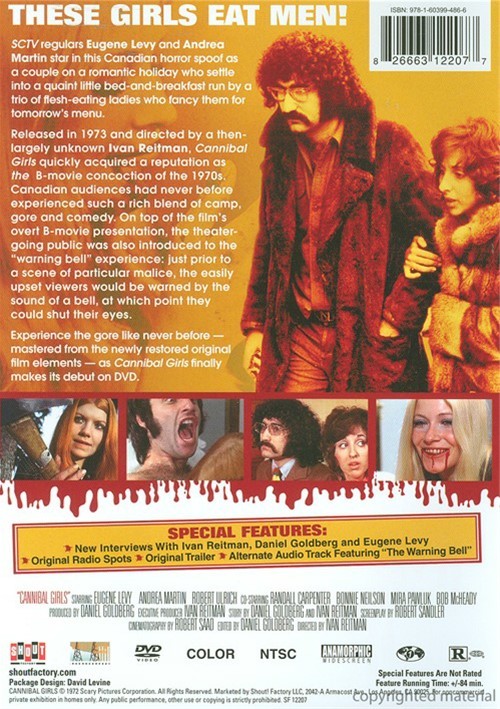 Studio: Shout Factory | Production Year: 1973 | Release Date: 10/26/2010 | Length: 84 mins
Video: Widescreen 1.85:1 Color
Audio: ENGLISH: Dolby Digital Stereo
EXTRAS:
- New Interviews With Ivan Reitman, Daniel Goldberg And Eugene Levy
- Original Radio Spots
- Original Trailer
- Alternate Audio Track Featuring "The Warning Bell"
EXTRAS REVIEW:
¨Two interviews are the major highlight here. The first,

"'Cannibal Guys': A Conversation with Ivan Reitman and Dan Goldberg" (26:46)

, is a wonderful, candid recounting of the journey Reitman and Goldberg took towards getting the film released theatrically by Sam Arkoff and American International Pictures. Both Reitman and Goldberg (interviewed by their longtime friend and fellow producer Joe Medjuck) seem happpy and excited to reminisce about the experience. Topics include the lack of a completed script, mountains of debt piling up thanks to reshoots, threatening to drive the print over a cliff, and getting a contract in writing. The second interview,

"'Meat Eugene': Richard Crouse Talks With Eugene Levy" (19:39)

, is a bit more strained, taking place inside a butcher shop, with Levy trying to hide his embarrassment over his amateur performance. The disc is rounded out with a theatrical trailer, a 60-second TV spot, and 60 and 30-second radio spots.

Trailers for "Roger Corman's Cult Classics" and Kingdom of the Spiders play when you put in the disc.
CAPTURAS:
[img=http://img204.imagevenue.com/loc128/th_82808_cannibal_girls_nucleus_dvd_cap01_123_128lo.jpg]
[img=http://img101.imagevenue.com/loc419/th_82813_cannibal_girls_nucleus_dvd_cap03_123_419lo.jpg]
TRAILERS:
DVD REVIEW:
http://www.dvdtalk.com/reviews/44379/cannibal-girls/
RELACIONADO: Cannibal Girls (1973) DVD Z2 UK - Director IVAN REITMAN
viewtopic.php?f=4&t=50178#p677810