Retomando una entrada que abrí a fines de Julio...
Bueno, THE RAVEN y RE-ANIMATOR ya las tengo en MKV 720P fuente Blu-Ray.
Ahora solamente me falta TOUCH, que por el momento no ha aparecido de fuente Blu-Ray.
Si otras series, las cuales de a poquito (capítulo por capítulo) las voy bajando.
THE RAVEN:
https://publichd.eu/index.php?page=torr ... der=4&by=2
RE-ANIMATOR:
https://publichd.eu/index.php?page=torr ... der=4&by=2
TV PACKS:
https://publichd.eu/index.php?page=torr ... ategory=23
Las reseñas de los Blu-Rays vienen lentas ultimamente en los sitios que visito habitualmente, aunque si uno Google...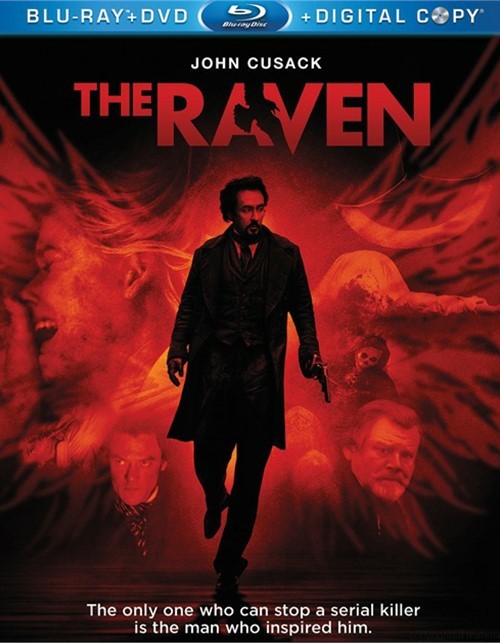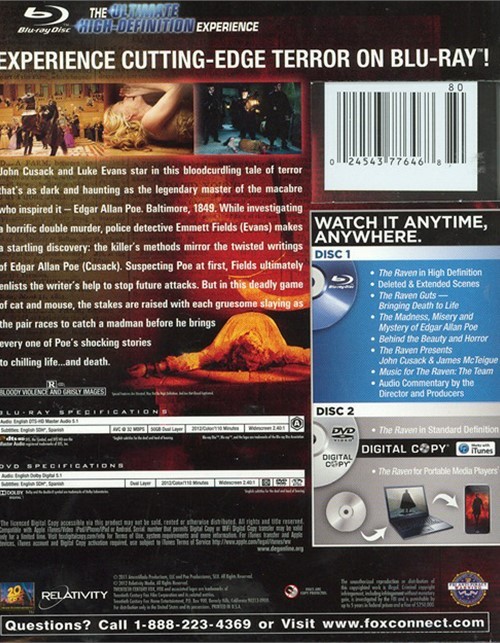 THE RAVEN:
http://www.avforums.com/movies/The-Rave ... u-ray.html
Extras: There's not much to be found here.

- Director James McTeigue is joined by producers Marc D. Evans, Trevor Macey and Aaron Ryder, and together they give us a light-hearted discourse on the production in a decent

Commentary Track

that plays up some of the real life and times of Edgar Allan Poe as sieved through the fictional screenplay from Livingstone and Shakespeare – ye gods, that makes it sound like an absolute classic, doesn't it? They clears up a few points about the technical aspects of the shoot – with lots about the Serbian or Bulgarian locations and the sets, the international crew and the FX – and there is praise for the performances of the cast. There is also an amusing anecdote revolving around the prop of the nautical sextant – apparently the Ukrainian assistant thought that a "sex" tent was required and, after nervously asking around, came back and politely enquired just how big a tent was needed.

- And we get some

Extended and Deleted Scenes

that only succeed in padding-out elements that we don't really want to see get padded-out. There are plenty of times when the film seems abruptly or clumsily edited, but there is no evidence of those moments getting a smoother deal here.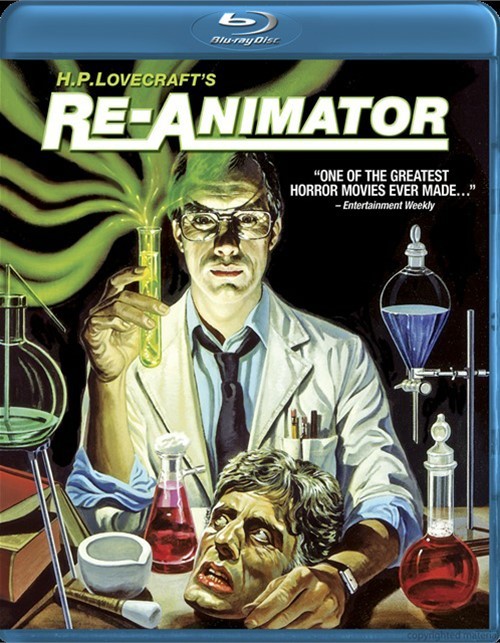 RE-ANIMATOR:
http://www.dvd-basen.dk/uk/home.php3?se ... k&region=z
The Final Word: Re-Animator remains a high point in eighties horror, a legitimately great horror film with some excellent career high performances, impressive effects, loads of atmosphere and a terrific sense of black humor behind it all.

Image's Blu-ray release doesn't bring anything new to the table

in terms of supplements but does carry over almost everything from past releases, and considering the amount of material here, that's going to be enough for most fans. The improved audio and video won't floor you but definitely give us a better presentation of the movie than past DVDs have and this release comes recommended, especially considering the more than reasonable price point it's being offered at.
- "Re-Animator: Resurrectus" (1:08:37 – SD) is a retrospective documentary that was made by Anchor Bay Entertainment for the 2007 re-release DVD. It includes lots of behind-the-scenes material like glimpses at the original script, storyboards, photos from on set and during pre-production rehearsals as well as some very interesting facts about the making of the film and some excellent interviews. Those interviewed here include: Stuart Gordon (Director), Carolyn-Purdy Gordon ("Dr. Harrod"), Dennis Paoli (Writer), Brian Yuzna (Producer), John Naulin (Special Makeup Effects), Anthony Doublin (Special Makeup Effects), Barbara Crampton ("Megan Halsey"), Bruce Abbott ("Dan Cain"), Jeffrey Combs ("Herbert West"), Robert Sampson ("Dean Alan Halsey"), John Beucher (Special Makeup Effects) and Mac Ahlberg (Director of Photography). You'll learn lots of interesting facts here such as how Stuart Gordon had originally pitched the idea as a series to PBS, how they originally wanted to shoot the film in Black & White on 16MM film, the fact the film had a budget of under 1 million dollars, that the re-animation serum is actually glowstick juice, how the film was originally shown in theaters in an UNRATED cut as they avoided getting a rating from the MPAA and lastly you'll be shown and explained to how some of the key special effects in the film were done by the guys that handled makeup special effects. This proves to be very informative and entertaining. It's dedicated to the late David Gale who they discuss a tad bit here as well.
- Audio Commentary by Director Stuart Gordon
- Audio Commentary by Producer Brian Yuzna & Actors Bruce Abbott, Jeffrey Combs, Barbara Crampton & Robert Sampson
- "Interview with Director Stuart Gordon and Producer Brian Yuzna" (48:47 – SD)
- "Interview with Writer Dennis Paoli" (10:39 – SD)
- "Interview with Composer Richard Band" (14:41 – SD)
- "Music Discussion with Composer Richard Band" (16:27 – SD)
- "Interview with Fangoria Editor Tony Timpone" (4:33 – SD)
- Deleted and Extended Scenes (26:06 – SD) include some of those from the R-rated version.
- Theatrical Trailer (1:56 – SD)
- "TV Spots" (2:29 – SD)
Seguimos sin subtítulos en RE-ANIMATOR, así que dado que ya tengo 2 ó 3 ediciones en DVD incluyendo una española en DVD-R con todo subtitulado, iré por el MKV 1080p cuando tenga tiempo y espacio en el disco.
De TOUCH no ví ninguna reseña todavía.
Originalmente publicado en:
http://www.foroaudioyvideo.com.ar/viewtopic.php?f=36&t=380&p=8143#p8143
ENLACES/FUENTES:
Lanzamientos: The Raven, Re-Animator y TOUCH