De Wikipedia:
First Run Features

is an independent film distribution company based in New York City. First Run was founded in 1979 by a group of filmmakers in order to advance the distribution of independent film. Today First Run is one of the largest theatrical and home video distributors in the United States, releasing 12 to 15 films a year in theatres nationwide and 50 to 60 videos and DVDs annually. First Run distributes a large number of documentaries in addition to foreign films, including many films about GLBT issues, Jewish experience and political and human rights issues.
Fuente:
http://en.wikipedia.org/wiki/First_Run_Features
/ WEBSITE:
http://www.firstrunfeatures.com/press.html
Behind The Burly Q
/ DVD-Video / Widescreen 1.85:1 Color (Anamorphic) / Widescreen 1.85:1 B&W (Anamorphic) / Production Year: 2010 / Region 1
Studio: First Run Features / Release Date: 4/12/2011 / Length: 98 mins
Video: Widescreen 1.85:1 Color (Anamorphic) / Widescreen 1.85:1 B&W (Anamorphic)
Audio: ENGLISH: Dolby Digital Stereo [CC]
Subtítulos: ENGLISH
EXTRAS:
Three Featurettes: The Reunion / Memorabilia & Costumes / Behind The Scenes
- Bonus Interviews / Burlesque Timeline / Photo Gallery / Original Theatrical Trailer
EXTRAS REVIEW:
There are some decent extras on the disc, starting with:
- The Reunion, a May 2006 burlesque gathering in Las Vegas. It runs about 7 minutes, and features an on-screen interview with Leslie Zemeckis, as well as a pass-the-mic anecdote segment during what looks like the convention dinner.
- Behind the Scenes runs just over 7 minutes, and has Leslie Zemeckis discussing the motivation behind making the film and her need to tell the stories of the performers. Given that most of the participants in the film have since passed on, the interviews gain a status of a much higher importance.
- Director's Bits runs almost 22 minutes and is essentially the outtakes and additional footage section of the anecdotes from the performer. A little more information is passed along, but Zemeckis was wise to keep the running time down by leaving them out.
- Ephemera is a look at some of the memorabilia and costumes that were used by the stars of the shows, and runs just over 5 minutes.
- A Photo Gallery containing 27 vintage photos with captions is also included, as is a Timeline Of Burlesque, which starts in 1866.
- A Theatrical Trailer for Behind the Burly-Q and four other First Run Features releases are included.
ENLACES/FUENTES: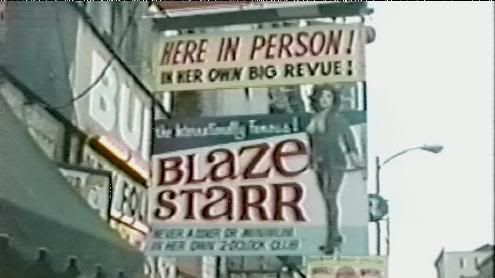 http://avaxhome.ws/video/Format/documen ... _2010.html
http://firstrunfeatures.com/behindtheburlyq_press.html
http://www.rockshockpop.com/forums/cont ... he-Burly-Q