Los creadores de Never Sleep Again: The Elm Street Legacy (2010), un documental de 8 horas de duración sobre la saga de películas de Freddie Krueger, ahora hicieron uno de 4 horas sobre la saga de El Regreso de los Muertos Vivos (1985) e incluye material extra sobre varias de sus secuelas.
More Brains!: A Return To The Living Dead
/ DVD-Video
Widescreen 1.85:1 Color (Anamorphic) / Region 1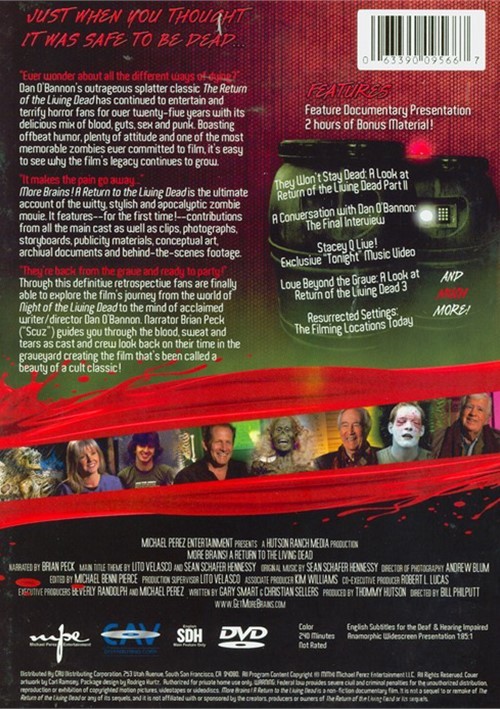 Studio: CAV / Production Year: 2011 / Release Date: 10/18/2011 / Length: 240 mins
Linnea Quigley at 50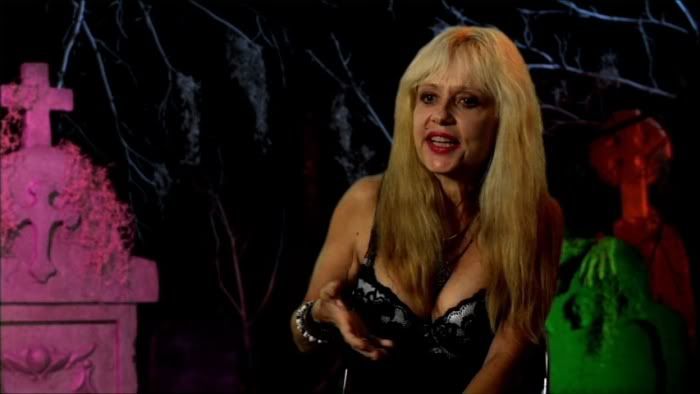 La película que le otorgó la fama entre los amantes del cine de terror fue El Regreso de los Muertos Vivientes, dirigida por Dan O´Bannon en 1985. En ella interpretaba a Trash, una jóven punk que, no sabemos muy bien movida por qué motivo, se encaramaba a una tumba en un cementerio y, tras desnudarse, se ponía a bailar una canción de SSQ. El tema era "Tonight (We´ll Make Love Until We Die)".
Linnea fue una grossa, sus papeles en Night of the Demons y Savage Streets también son imborrables.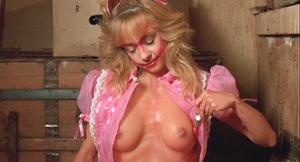 En la remake de Night of the Demons (2009), su papel, o al menos uno parecido, creo que lo hizo Diora Baird.
EXTRAS:
The disc's special features continue the story, and eventually fill out the 240 minutes of runtime promised on the back of the box.
-
'They Won't Stay Dead'
(29:40) covers the production of the utterly awful
Return of the Living Dead Part II
. This includes interviews with many of the same people, plus Part II actors Suzanne Snyder and Michael Kenworthy. The basic theme here is that no one wanted to do the film, and that the bulk of the original production staff resents the film, or at the very least their work in it. Discussion includes the script's plagiarist elements (it's almost the same movie), director Ken Wiederhorn's ( Shock Waves) disinterest in the project, casting, the more elaborate special effects, the last minute addition of a Michael Jackson zombie, and the film's general failure as both a comedy and a horror film. There is no footage from the original film present, or any behind the scenes footage, only still photographs, which are put to good effect.
-
'Love Beyond the Grave'
(21:00) covers the making of the third film in the series, the aptly titled
Return of the Living Dead 3
. The third film is actually quite entertaining, and even moving at times, but doesn't have a lot in common with the first two films. It's more of an imaginative, standalone zombie feature. I do recommend seeing it, preferably in its uncut, unrated form. Some of the same interview subjects appear, but very few people crossed over into working on the third film, and the bulk of the interviews belong to director
Brian Yuzna
, make-up effects supervisor Steve Johnson (who married Quigley), writer John Penny, and actors J. Trevor Edmond and Brian Peck (again). Subject matter includes the writing pitches (including Kenny Myers and Brian Peck's treatment), script development, casting, filming on sets and locations, difficulties filming the opening scene, splitting the effects throughout different effects houses, and the film's disappointing release. There is a reasonable amount of behind the scenes footage, and production photos and illustrations, but again no footage from the film itself.
- Next up is
footage from Dan O'Bannon's final interview
(28:30), a rather extensive interview that was for some reason almost entirely unused for the final film. There's good stuff here, stuff that could've helped the narrative of the documentary. O'Bannon does go a bit off the topic of Return of the Living Dead, sure, but there's plenty of usable, pertinent information, especially his discussion concerning avoiding 'stepping on George Romero's toes', and direct references to some of the negative things spoken about him by the actors.
- This is followed by
14 scenes deleted from the documentary
proper. There is, unfortunately no 'play all' option, which is annoying, but these include some amusing anecdotes. The disc also features a 'Tonight' by Stacy Q music video (3:20), 'Resurrected Settings: The Filming Locations Today' with Brian Peck and Beverly Randolph (10:00), ' Return of the Living Dead in Three Minutes' (3:00), a trailer, and a trailer for Never Sleep Again.
Al igual que el otro no trae subtítulos. Se consigue en tu páginas de descarga directa amiga.
ENLACES:
http://avaxhome.ws/video/Format/documen ... D-SiC.html
Never Sleep Again: The Elm Street Legacy (2010) @
viewtopic.php?f=4&t=46067&p=608291
http://www.dvdactive.com/reviews/dvd/mo ... -dead.html
http://bon-scott.blogspot.com/2009/04/l ... grito.html
http://www.celebritybottoms.com/glamour ... uigley.htm
(+18)
http://valientsvloggg.blogspot.com/2011 ... ht-of.html