1981 fue un año sangriento para el cine.
La fiebre roja que trajeron Halloween y Friday the 13th (Viernes 13) se extendía de manera imparable y sería una de las marcas registradas del cine de los '80s junto con las comedias estudiantiles , las "buddy movies" y el renacimiento del género musical de la mano del videoclip con ejemplos como Footloose y Flashdance a la cabeza.
Pero volvamos a la sangre, el foro es testigo.
Algunos Posts existentes:
Halloween II (1981) Blu-Ray USA - Director: Rick Rosenthal
viewtopic.php?f=25&t=54468&p=720474
The Funhouse (1981) Blu-Ray UK - Director: Tobe Hooper
viewtopic.php?f=25&t=54005&p=712870
Happy Birthday To Me (1981) DVD Z1 - Director: J. Lee Thompson
viewtopic.php?f=4&t=44650&p=566252
Dead & Buried (1981) Blu-Ray USA - Director: Gary A. Sherman
viewtopic.php?f=25&t=36072&p=443667
Friday the 13th Part 2 (1981) Blu-Ray - Dir: Steve Miner
viewtopic.php?f=25&t=36068&p=443660
MY BLOODY VALENTINE (1981) DVD Z1 - Director: George Mihalka
viewtopic.php?f=4&t=35042&p=429568
Lecturas: Los años 80, la década codiciosa --->
http://cineydvd.mforos.com/89932/630959 ... codiciosa/
Listado: Horror Movies of 1981 --->
http://www.horrormovies.org/horrormovie ... &year=1981
An American Werewolf in London (1981), The Beyond (1981), The Burning (1981), Cannibal Ferox (1981), Don't Go Near the Park (1981), The Dorm That Dripped Blood (1981), House by the Cemetery (1981), Just Before Dawn (1981), Madman (1981), Pieces (1981), The Prowler (1981) y por supuesto Nightmare (1981).
Dirigida por Romano Scavolini y conocida por su título largo: Nightmares in a Damaged Brain (Pesadillas de una mente enferma o Violencia se escribe con sangre) o simplemente como Blood Splash.
Si la quieren con subtítulos busquen un VHS o un Rip + Subdivx.com, si quieren la papa (2 DVD-9) vayan a AvaxHome y agradezcánselo al usuario Someonelse.
Nightmare aka Blood Splash
(1981) DVD Z1 - Director: Romano Scavolini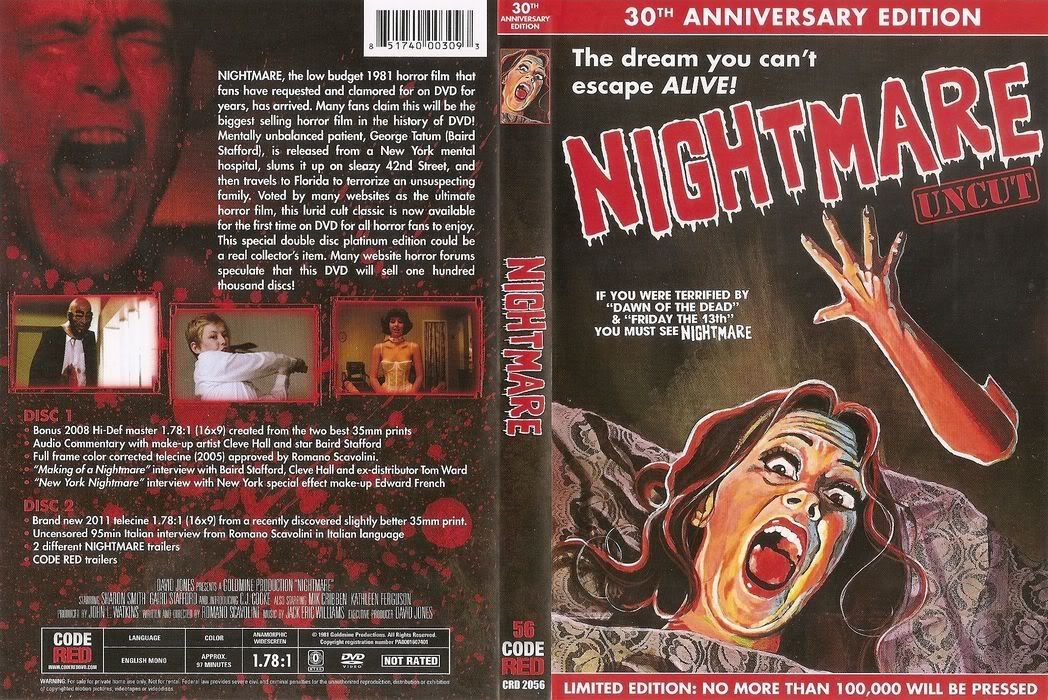 2xDVD9 (VIDEO_TS) | NTSC 4:3/16:9 (720x480) | HQ Cover | 3x98 mins | 8,14 Gb + 7,85 Gb
Audio: English Dolby AC3, 2 ch | Subs: None
Genre: Horror, Thriller | USA
Disc 1:
- Bonus 2008 Hi-Def master 1.78:1 (16:9) created from the two best 35mm prints
- Audio Commentary with make-up artist Cleve Hall and star Baird Stafford
- Full frame coler corrected telecine (2005) approved by Romano Scavolini
- "Making of a Nightmare" interview with Baird Stafford, Cleve Hall and ex-distributor Tom Ward
- "New York Nightmare" interview with New York special effect make-up Edward French
Disc 2:
- Brand new 2011 telecine 1.78:1 (16x9) from a recently discovered slightly better 35mm print
- Uncensored 95min Italian interview from Romano Scavolini in Italian language
- 2 different NIGHTMARE trailers
- CODE RED trailers
ENLACES:
http://avaxhome.ws/video/genre/horror/N ... 1_dvd.html
/
http://www.codereddvd.com/product.php?id=100
http://dimensionfantastica.blogspot.com ... omano.html
http://www.hysteria-lives.co.uk/hysteri ... brain.html
http://www.vagos.es/showthread.php?t=378270
/
http://www.vagos.es/showthread.php?p=1053879502
Creo que es UNCUT finalmente. Según lo que leí hay VHSs de 100 minutos, 96 minutos, 95 minutos, y de 99 minutos y 24 segundos.
El DVD dice que es UNCUT con 98 minutos y monedas en sus 3 versiones.
La diferencia de 1 o 2 minutos no sabría decirte si es real, solo vos creo que podrás notarlo.
Yo creo que nunca la ví esta película y me voy a estrenar con estos DVD-9 en su máxima calidad posible.
Información sobre censura:
Nightmare aka Schizo
/ Dir.: Romano Scavolini / 1981 / USA
Released on tape in the early 80's, this was reviewed by the censors in 1985. Two versions were refused running 100 and 96mins, before being passed with an R at 95mins (v). Video Classics never put this print out, but their original
early 80's tape runs 99min 24sec and is uncut
.
In 1987 Palace Video retitled this Schizo, cut it to 89mins (v) (89min 03sec) & were awarded an R rating. Avoid this and try and track down the original Video Classics tape.
FUENTE:
http://www.refused-classification.com/F ... #nightmare
Información completa sobre los contenidos del DVD:
R0 AE America - (Code Red - 30th Anniversary Edition)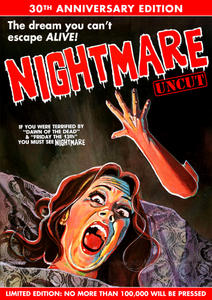 DISC ONE:
*The Film (Widescreen Version) (98:14 - NTSC)
UNCUT
*The Film (Original Full Screen Version) (98:23 - NTSC)
UNCUT
EXTRAS:
- Audio Commentary with actor Barid Stafford and Cleve Hall
- "Making of Nightmare" featurette
- "New York Nightmare" interview with special effects make-up artist Edward French
DISC TWO:
- *The Film (Widescreen Version from uncut composite print) (98:09 - NTSC)
UNCUT
Extras:
- Interview with director Romano Scavolini (in Italian with no subtitles) (95:55)
- 2 Theatrical Trailers / Code Red Trailers
Aspect Ratio: Multi Aspect Ratio
- Disc One presents the film in both 1.78:1 anamorphic widescreen and original 1.33:1 non-anamorphic full screen.
- Disc Two presents the film in anamorphic 1.78:1 widescreen.
Picture Format: NTSC
Soundtrack(s): English Dolby Digital 2.0 Dual Mono (SIN SUBTÍTULOS DE NINGÚN TIPO)
Case type: 2-Disc Keep Case
Notes: Limited to 100,000 copies.
Disc Two's disc art resembles a DVD-R. Don't worry as this is indeed a factory-pressed DVD.
Información sobre la censura del DVD:
Code Red for the complete version of the film (with 2 widescreen versions and the original full screen version)
and great set of extras. Do note, Anchor Bay UK has 5.1 and DTS mixes (along with the original mono) but only features the R-Rated version.
General Notes:
There are many different cuts of this film. Most versions are missing most of the bloody moments, but there are also longer dialogue sequences in some cut versions than in other uncut prints.
The longest version that is commonly available on VHS (and now on DVD from Code Red), runs about 99 minutes.
CUTS:
R0 AE America-
Code Red - 30th Anniversary Edition - No Cuts. Uncut Version.
FUENTE:
http://www.dvdcompare.net/comparisons/film.php?fid=3671
DEJO CAPS CALIDAD VHS PARA COMPARAR EN ALGÚN MOMENTO CON EL DVD:
MAS CAPTURAS:
http://cinematichorrorarchive.wordpress ... rain-1981/
Ediciones en VHS:
http://www.rarovhs.com.ar/2011/01/night ... e-sin.html
(Holandesa)
Los 4 VHS Argentinos:
http://www.rarovhs.com.ar/2009/10/night ... brain.html
POST DE 19 PÁGINAS EN HORRORDVDS:
http://www.horrordvds.com/vb3forum/show ... hp?t=36761
POST DE 21 PÁGINAS EN AVMANIACS:
http://www.avmaniacs.com/forums/showthread.php?t=45997
POST DE 46 PÁGINAS EL CULT-LABS:
http://www.cult-labs.com/forums/us-horr ... lease.html
CAPTURAS DEL DVD (VERSIÓN 4:3):
Más:
http://www.horrordvds.com/vb3forum/show ... tcount=236
VERSIONES 16:9:
http://www.horrordvds.com/vb3forum/show ... tcount=244