Hasta el momento tanto en USA como en UK los Blu-Ray editados NO traen subtítulos en español.
Las ediciones americanas son por un lado las versiones de cine y por el otro las extendidas.
En UK se han editado de manera individual las versiones de cine y en pack las versiones extendidas.
Y en España va a ser lo mismo, ya que pronto se edita también la versión extendida (o serie de televisión).
Pack USA / Versiones Cinematográficas
+ BONUS DVD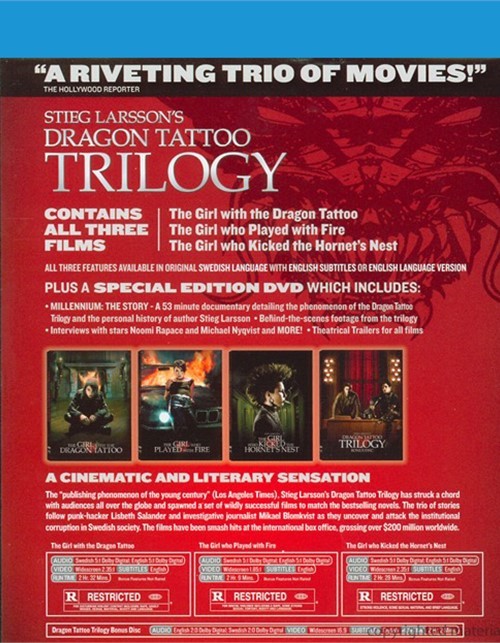 Millennium: The Story - A 53 minute documentary detailing the phenomenon of the Dragon Tattoo Trilogy and the personal history of author Stieg Larsson
Behind-the-scenes footage from the trilogy / Interviews with stars Noomi Rapace and Michael Nyqvist
SUBTÍTULOS: Unicamente en
INGLÉS
Pack USA / Versiones Extendidas
+ BONUS DVD
Millennium: The Story Documentary / Behind-the-scenes footage from the trilogy
Interview with stars Noomi Rapace and Michael Nyqvist and more / Theatrical trailers
SUBTÍTULOS: Unicamente en
INGLÉS
THE BONUS DISC
(es el mismo en ambas ediciones)
- "Millennium: The Story" (48:55) is an impressive, sprawling summarization of the life and times of author Stieg Larsson. Beginning with the literary sensation of his three books and their various translations around the world, the documentary steps back to the writer's origin in Sweden, surveying his relentless passion for literature and politics, exploring how the young man grew to become a major journalistic force in his homeland, fighting to capture various perspectives within his stories. Interviewing friends and family, a compelling portrait of the man is made, helping to understand how the novels were formed from Larsson's own experience as a journalist and Swedish resident. Equally as appealing is the exploration of life after Larsson's death in 2004. Expectedly, focus switches to the creation of the film trilogy, with cast interviews further illuminating Larsson's legacy.
- "Interview with Noomi Rapace" (19:36) is a Swedish-language conversation with the lead actress, in the midst of having medical bandages applied to her head on-set. Expectedly, the chat primarily sticks to character motivation and professional preparation, allowing Rapace to articulate her perspective on the novel and its cinematic representation.
- "Interview with Michael Nyqvist" (13:06) also captures make-up chair action, this time with the male lead of the trilogy. The Swedish-language chat permits the actor a shot to communicate his feelings about the characters and the challenge of film acting, discussing motivations and his extensive career in front of the camera.
- "Interviews with Cast and Crew" (13:59) expands the conversation to various fringe players in the trilogy, again discussing preparation and inspiration. To keep the featurette consistent, actor Georgi Staykov is interviewed in a make-up chair.
- "Nidermann vs. Roberto" (9:34) spotlights a key fight scene, displaying the choreography and camaraderie needed to pull off a sequence of brutal violence. It's a fascinating peek at raw filmmaking effort, even showing off the mistakes on the road to a perfect take.
- A Poster Gallery is offered, with nine pieces of art.
- And Theatrical Trailers for all three movies are included, along with Teaser Trailers for "Dragon Tattoo" and "Hornet's Nest."
Pack UK / Versiones Extendidas
DISC ONE (BLU-RAY) The Girl With the Dragon Tattoo – extended version (185:48)
DISC TWO (BLU-RAY) The Girl Who Played with Fire – extended version (186:19)
DISC THREE (BLU-RAY) The Girl Who Kicked the Hornets' Nest – extended version (185:18)
DISC FOUR (DVD) "Behind the scenes of Millennium" documentary (30:33)
Interview with Noomi Rapace (19:37) / Interview with Michael Nyqvist (13:07)
Cast and crew interviwes (13:59) / Stieg Larsson archival interview (2:35)
"Ronald Nidermann vs. Paolo Roberto" featurette (9:44) / "The Making of the Soundtrack" featurette (4:14)
SUBTÍTULOS: Unicamente en
INGLÉS
Packs Españoles / Ambas Versiones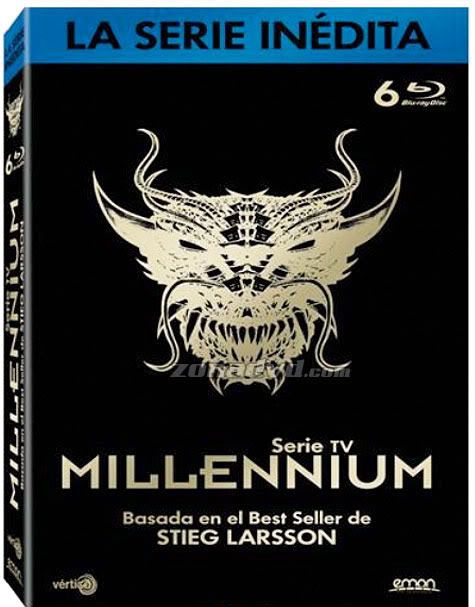 EXTRAS: ¿ Trailers ?
SUBTÍTULOS: Unica edición con subtítulos en
ESPAÑOL
.
ENLACES:
http://thepiratebay.org/search/larsson+ ... um/0/3/200
http://www.dvdtalk.com/reviews/46195/st ... x-set-the/
http://www.amazon.co.uk/Millennium-Tril ... 0051NH5OA/
http://homecinema.thedigitalfix.com/content/id/74352/
http://www.mubis.es/titulos/trilogia-millennium-blu-ray
http://www.mubis.es/titulos/millennium- ... on-blu-ray
http://www.zonadvd.com/modules.php?name ... omi+rapace
The Dragon Tattoo Trilogy - Extended Editions
Blu-ray Review (UK)
The Millennium series comes to UK Region Free Blu-ray complete with a 1080p High Definition rendition, presented in the original aspect ratio of widescreen 1.85:1. Now, as standalone features, the films all have varying results in terms of video performance: Dragon Tattoo was released cinematically, and obviously had the most care and attention (and budget) afforded to it; the latter two 'films' were not so gracefully rendered. Dragon Tattoo was also presented in a more cinematic 2.35:1 aspect ratio when it was released theatrically. Here, for the extended TV format, the 1.85:1 aspect ratio has been adhered to across all six parts, so thus Dragon Tattoo must have been converted. I assumed that this would be done using un-matting techniques to 'reveal' more picture information at the top and the bottom of the image, but actually it appears like the 2.35:1 image has been cropped on the sides to produce the 1.85:1 ratio, effectively 'zooming in' on a portion of the 2.35:1 image. Whilst we do lose a bit of information, the framing actually feels quite natural this way, and, perhaps most importantly (at least on the technical front), it does not detract from it in terms of visual quality; Dragon Tattoo still stands above the rest of the instalments as better in quality.

Indeed all 6 parts look fairly good, but only when you regard them as decent quality TV mini-series instalments – when compared to just about any medium-to-big-budget mainstream movie release, the Millennium series just does not stand up whatsoever. Peppered with very variable noise levels that go way beyond acceptable 'filmic grain', softness can also be an issue sometimes, although overt DNR and edge enhancement are not to be found. Bleeding and crush are also not in issue. The colour scheme is realistic, but bleak, and the interior shots generally look much cleaner than the exterior shows, no doubt thanks to better lighting options. Overall, taking into account the inherent limitations of the TV-format material, this is a good video presentation, but it's not the kind of thing that particularly stands out on Blu-ray at all.
Reseña del pack de UK @
http://www.avforums.com/movies/The-Drag ... u-ray.html
Comentarios:
The theatrical versions are not just shorter cuts, they are also edited in a very different way, with scenes in a different order, and, in the case of Dragon Tattoo, with a completely different aspect ratio even.
I can't impress upon you how much more superior these original TV versions are. There really is no need to hold on to the theatrical cuts once you buy this set. The sequels were never intended for theatrical release and therefore those films really are quite flawed 'edits' of material that was never intended to be viewed in such a way.
Buy the full extended set, watch it, and if you really think the theatrical cuts have a place in your collection then you can always hold on to them!
Fuente:
http://www.avforums.com/forums/showpost ... stcount=12
Each film is presented on one Blu-ray a piece, encoded in 1080p/AVC. The first film looks the best of the bunch, having been shot in 2.35:1 35MM film (unfortunately it is cropped to 1.78:1 here), as opposed to the 1.85:1 16MM for the sequels (also presented in 1.78 here). The first film boasts incredible depth and clarity, whereas the sequels are flush with grain and murkier images that don't stand well against the first feature. That said, all three films look quite clean in their own way. Just don't expect an overwhelmingly clean presentation for the sequels.
Fuente:
http://uk.bluray.ign.com/articles/121/1214423p1.html
A mi no me jode que se vean medio mugrosas, prefiero mugroso y bueno que perfecto y sin argumento. De última cuando la trilogía extendida que arrancó con Fincher esté terminada tendremos versiones perfectas visualmente. Rooney Mara la descose en serio.