Ruth Elizabeth Davis
(1908-1989, mas conocida como
Bette Davis
, fue una actriz de teatro, cine y televisión estadounidense; uno de los principales «
Mitos del Séptimo Arte
». Conocida a veces con el apelativo de «
la Reina de Hollywood
» acaparó 10 candidaturas al
Óscar a la mejor actriz
, premio que ganó en dos ocasiones. Sus interpretaciones están caracterizadas por sus ojos
embrujantes
, su desenvolvimiento intenso y profundo y su presencia hechizante, que «
llenaba la pantalla
» a pesar de su diminuta estatura.
Bette Davis 100th Birthday Box Set
(Exclusive To Amazon.co.uk) [DVD Z2 UK]
Studio: Warner Home Video | Release Date: 16 Jun 2008 | Run Time: 642 minutes| Number of discs: 6
Amazon.co.uk Review:
To quote Claude Reins in
Deception
, Bette Davis is "all eyes and talent," and both burn bright in six vintage films she made for Warner Bros. between 1939-46. Lesser known than her certified classics, these are not exactly best Bettes, but they are marvelously entertaining and a representative showcase for one of Hollywood's most enduring leading ladies. These eminently repeatable films put Davis (and viewers) through the ringer. Few actresses portrayed characters who suffered the slings and arrows of outrageous misfortune so grandly, so regally, so tragically, or so deservedly.
As an ad for one of Davis' movies once famously proclaimed, when she was good, she was very good. When she was bad, she was terrific. Just check out John Huston's
In This Our Life (1942)
, this sets unearthed treasure. Bette, flouncing like mad, jilts her fiancée, steals good sister Olivia de Havilland's husband, and promptly drives him to drink and suicide. And she's just getting warmed up! (You don't need Jeannine Basinger's informed commentary to debunk the tantalizing movie legend about a supposed cameo by members of the Matlese Falcon cast. Those gents at the bar look nothing like Bogie and company. But that is Walter, John's father, tending bar). Davis was also very good at being noble. In the prestige project,
Watch on the Rhine (1943)
, based on Lillian Hellman's play and adapted for the screen by Dashiell Hammett, she is the steadfast wife to Paul Lukas, in his Oscar-winning role, as a "legendary figure of the underground movement," who carries on his fight against fascism in Washington, D.C. in
The Old Maid (1939)
, based on the novel by Edith Wharton, Bette allows her cousin (Miriam Hopkins) to give her illegitimate child a respectable name, and, posing as the girl's unsuspecting aunt, must stand by while she grows up spoiled and "horrid." And in
All This and Heaven Too (1940)
, she is a transplanted French schoolteacher who regales her initially scornful students with the true story behind her scandalous past. Deception is another ripping melodrama in which she stars as a pianist whose reunion with her lost love (Paul Henreid), a cellist is threatened by Rains as her arrogant and sadistic Svengali (who's responsible for those minks in her closet). Last but not least is
The Great Lie, (1941)
, pitting Bette against Mary Astor, who won an Academy Award as the bitchy concert pianist whose son Bette is raising (long story, but it involves missing aviator George Brent, whom they both love). These films offer such they-don't-make-'em-like-this-anymore pleasures as lush, melodramatic scores by such masters as Max Steiner, hothouse emotions, quotable dialogue, and, of course, indelible character actors at their peak. These films are seen to their best advantage when viewed as part of each disc's bonus features that recreate an old fashioned "Night at the Movies".--Donald Liebenson
DVD Description:
To commemorate Bette Davis' 100th birthday, Warner Brothers are releasing six films from her heyday on DVD for the first time. The box set features some of her best films, including:
-
In This Our Life
: The tale of two sisters, Stanley (Bette Davis) and Roy (Olivia de Havilland) Timberlake. When Stanley runs off with Roy's husband, she soon drives him to suicide. Upon her return home she finds that Roy has fallen in love with her ex-fiancé, Craig. Stanley, being a selfish and jealous woman, tries to get Craig back which leads to a climatic conflict.
-
The Old Maid
: Based on an Edith Wharton novel and Pulitzer Prize-winning play, The Old Maid tells the sad story of Charlotte, a woman whose circumstances force her to give up her illegitimate child and pose as the child's "old maid" aunt, thereby facing a lifetime of maternal sacrifice. As Charlotte, Bette Davis gives one of her most nuanced performances, aging from wide-eyed girl to gray-haired martinet. Miriam Hopkins provides effective counterbalance with her portrayal of Charlotte's effusive cousin, who raises the little girl.
-
All This And Heaven Too
: The film tells the story of a governess, Henriette Deluzy-Desportes (Bette Davis) who is accused of having an affair with her employer, the Duc de Praslin (Charles Boyer), and who is then accused of complicity in the murder of his wife, the Duchesse de Praslin (Barbara O'Neil).
-
The Great Lie
: Tempestuous, ambitious concert pianist Sandra Kovac (Mary Astor) shares a bond with down-to-earth Maggie Van Allen (Bette Davis) and her little boy Pete. Sandra's chic New York friends can't imagine what the two women have in common. What they don't know is that Pete is actually Sandra's son – and the son of the heroic aviator (George Brent) that both women love. Powerful emotions rage against a backdrop of powerful music in the film that earned Astor a 1941 Best Supporting Actress Oscar® for her stellar performance opposite the legendary star who always gives a tour-de-force performance.
-
Watch On The Rhine
: An adaptation of Lillian Hellman's play, Bette Davis and Paul Lukas are German anti-Nazi underground leaders who flee the country, only to be pursued to the U.S. by Nazi agents.
-
Deception
: The three stars (Bette Davis, Paul Henreid, Claude Rains) and director (Irving Rapper) of Now Voyager reunite for this glamorous, angst-ridden melodrama. Based on Louis Verneuil's 1928 play Jealousy, the film tells the story of pianist Christine Radcliffe separated from her great love, cellist Karel Novak by World War II. Unexpectedly reunited with him, Christine desperately strives to hide her wartime dalliance as the mistress of a wealthy, sadistic composer (Rains), with devastating results.
Subtítulos: INGLES Y ESPAÑOL (ENTRE OTROS)
Detalles curiosos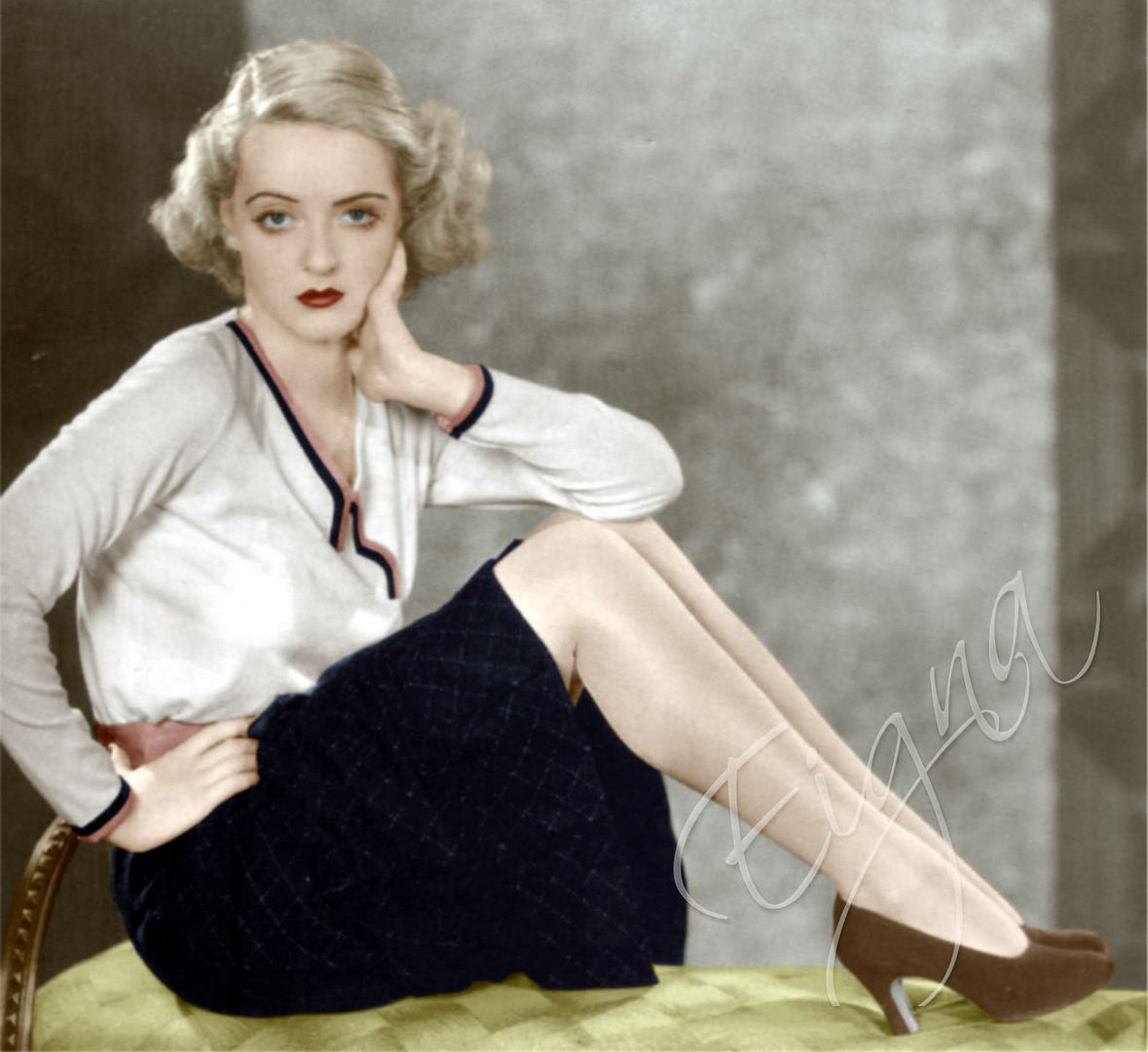 A principios de los años 60 Bette Davis era considerada solo una gloria del pasado así que se encontraba sin trabajo, pero se le ocurrió poner un anuncio anónimo en un diario de Hollywood solicitando empleo y fue contratada para trabajar en el excelente film ¿Qué fue de Baby Jane? con el que recibió una nominación al Óscar.
Su enemiga profesional y personal fue la célebre actriz Joan Crawford otro Mito del cine, en realidad ambas se detestaban a morir; y curiosamente en "¿Qué fue de Baby Jane?" les tocó ser protagonistas del film donde Jane Hudson (Bette Davis) maltrata a su antojo a su hermana Blanche Hudson (Joan Crawford) a quien odia profundamente y quien a su vez la detestaba también.
ENLACES/FUENTES:
http://www.amazon.co.uk/Bette-Davis-Birthday-Exclusive-Amazon-co-uk/dp/B0014T7EKU/
http://www.lovefilm.com/film/Bette-Davis-100th-Birthday-Box-Set/114064/
http://www.bettedavis.com/
http://es.wikipedia.org/wiki/Bette_Davis
http://www.alohacriticon.com/