Gogol Bordello es un grupo de Punk Gitano del Lower East Side de Nueva York formado en 1999. Uno de sus rasgos más característicos son sus frenéticas presentaciones teatrales, y otro su sonido inspirado en la música gitana. La mayor parte de sus miembros son inmigrantes de Europa del este, y el grupo utiliza sonidos de acordeón y violín y, en algunos de sus discos, saxofón y música de cabaret, punk y dub.
En una entrevista para la National Public Radio, el líder Eugene Hütz citó a Band Of Gypsys y Parliament-Funkadelic como influencias musicales del grupo, y a Nikolái Gogol, homenajeado en el nombre de la banda, como una influencia ideológica. Entre sus influencias están también Manu Chao, Fugazi, Kalpakov, Rootsman y The Clash.
Miembros actuales
Super Taranta!
(2007)
01 Ultimate
02 Wonderlust king
03 Zina marina
04 Supertheory of supereverything
05 Harem in Tuscany
06 Dub the frequencies of love
07 My strange uncles from abroad
08 Tribal connection
09 Forces of victory
10 Alcohol
11 Suddenly (I miss carpaty)
12 Your country
13 American wedding
14 Super taranta
Gypsy Punks: Underdog World Strike
(2005)
01 Sally
02 Never Young
03 Not a Crime
04 Immigrant Punk
05 60 Revolutions
06 Avenue B
07 Dogs Were Barking
08 Oh No
09 Start Wearing Purple
10 Think Locally, XXXX Globally
11 Underdog World Strike
12 Illumination
13 Santa Marinella
14 Indestructible
15 Mishto
East Infection - EP
(2004)
01 East Infection
02 Ave. B
03 Mala Vida (cover de Mano Negra)
04 Copycat
05 Strange Uncles From Abroad
06 Madagascar-Roumania (Tu Jésty Fátã)
Gogol Bordello Vs. Tamir Muskat
(2004)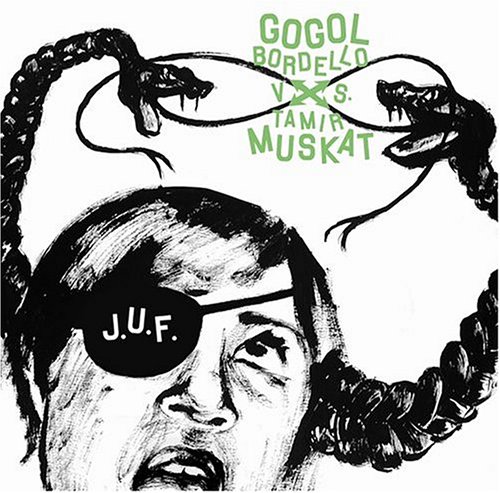 01 Gypsy Part of Town
02 When I Was A Little Spy
03 Super Rifle (Balkan Express Tr
04 J.U.F. Dub
05 Bassar (Spanish Car Service Sp
06 Last Wish of The Bride
07 Onto Transmigration
08 Balkanization of Amerikanizati
09 Roumania
10 Panic So Charming (What The Fu
11 Samiao's Day
12 Muskat (Slishal No Ne Zapisal)
Multi Kontra Culti Vs. Irony
(2002)
01 When The Trickster Starts A-Po
02 Ocurrence on The Border
03 Haltura
04 Let's Get Radical
05 Smarkatch
06 Future Kings
07 Punk Rock Parranda
08 Through The Roof 'n' Undergrou
09 Baro Foro
10 Hats Off to Kolpakoff
11 Huliganjetta
Voi-La Intruder
(1999)
01 Sacred Darling
02 Voi-La Intruder
03 Greencard Husband
04 Passport
05 Start Wearing Purple
06 Shy Kind of Guy
07 Mussolini vs. Stalin
08 Letter to Mother
09 God-Like
10 Nomadic Chronicle
11 Letter to Castro (Costumes For
12 Unvisible Zedd
13 Sex Spider
14 No Threat
15 Against The Nature
Albums
EPs
Singles
Compilations
Side projects
In 2011, Eugene Hutz contributed a version of the track "A Cidade" in collaboration with DJ Dolores, Otto, Isaar, and Fred 04 the Red Hot Organization's most recent charitable album "Red Hot+Rio 2." The album is a follow-up to the 1996 "Red Hot + Rio." Proceeds from the sales will be donated to raise awareness and money to fight AIDS/HIV and related health and social issues.
ENLACES/FUENTES:
http://en.wikipedia.org/wiki/Gogol_Bordello
http://es.wikipedia.org/wiki/Gogol_Bordello
http://thepiratebay.se/search/GOGOL+BORDELLO/0/3/0
http://vomitometafisico.blogspot.com.ar/2011/08/gogol-bordello-discografia-mediafire.html
http://www.youtube.com/user/GogolBordello/videos
http://www.youtube.com/user/GogolBordelloVEVO/videos