Arts Documentary hosted by John Lithgow, published by PBS in 1995.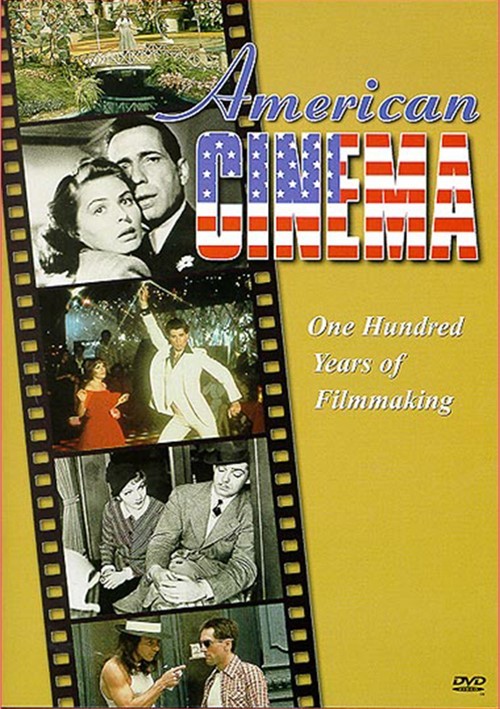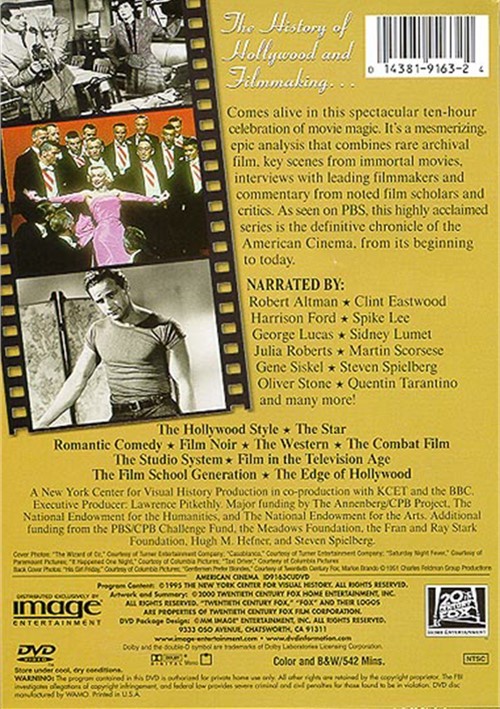 - The DVD-set is sold out and today even 2nd hand- copies cost hundreds of US Dollars
- Although series is old, it doesn't mean that content is "outdated"
- Many directors have since passed away, but in this series it's still possible to hear their
firsthand comments
Of course this series could have been left as a "collector's item" and inaccessible to wider
audience, however thought to make a copy available for those interested in cinema history. I have
also much more recent Hollywood history "Moguls & Movie Stars" aired at TCM, but I think this older
series still offer more interesting insight by filmmakers. The TCM- series is mainly a history chronicle
of Hollywood Studio system, it ends late '60s and doesn't cover independent film or digital
technology etc.
Technical Specs
Video Codec:
XviD ISO MPEG-4
Video Bitrate:
2212 kbps
Video Resolution:
704x536
Video Aspect Ratio:
1.313:1
Frames Per Second:
29.970
Audio Codec:
0x2000 (Dolby AC3) AC3
Audio Bitrate:
224kb/s CBR 48000 Hz
Audio Streams:
1
Audio Languages:
english
RunTime Per Part:
51:13.101
Number Of Parts:
10
Part Size:
896 MB
Ripped by:
DocFreak08
Information
The history of Hollywood and filmmaking comes alive in this spectacular nine hour celebration of
movie magic. It's a mesmerizing, epic analysis that combines rare archival film, key scenes from
immortal movies, interviews with leading filmmakers and commentary from noted film scholars and
critics. As seen on PBS, this highly acclaimed series is the definitive chronicle of the American
cinema, from its beginning to today. Includes interviews with Robert Altman, Clint Eastwood,
Harrison Ford, Spike Lee, George Lucas, Sidney Lumet, Julia Roberts, Martin Scorsese, Gene Siskel,
Steven Spielberg, Oliver Stone, Quentin Tarantino, and many more.
A New York Center for Visual History Production in co-production with KCET and the BBC
1) The Hollywood Style
This program introduces the broad themes and stylistic conventions of classical Hollywood film, a
combination of strong protagonists and story structure, with powerful emotional and technical effects.
NARRATOR: Joe Morton
2) The Star
Early on, Hollywood saw that recognizable talent could minimize the financial risks of film
production. In this program, Joan Crawford and Julia Roberts provide case studies of the cultural
phenomenon of stardom.
NARRATOR: Kathleen Turner
3) Romantic Comedy
From Frank Capra's It Happened One Night to such contemporary works as Pretty Woman, romantic
comedies often mask keen social and psychological observations with breezy dialogue and ridiculous
slapstick. This program explores the surface humor of such films, as well as their roots in
questions of gender and sexuality.
NARRATOR: Kathy Selverstone
4) Film Noir
This program examines the genre of film noir-its roots in German Expressionism; its links to the
Cold War, from nuclear threats to blacklisting; and the use of special lighting and camera angles to
emphasize themes of corruption and urban decay.
NARRATOR: Richard Widmark
5) The Western
This program traces the history, aesthetic evolution, and sociological importance of one of American
film's most popular genres, from John Ford's Stagecoach through the work of Arthur Penn, Sam
Peckinpah, and Clint Eastwood.
NARRATOR: Eli Wallach
6) The Combat Film
This program describes the evolution of the World War II combat film (including those produced under
directives from the federal government); the rise of the Vietnam film; the influence off actual
newsreel documentaries on a fiction film genre; and the ways in which the combat film has filled
social and political needs.
NARRATOR: Matthew Modine
7) The Studio System
Using Paramount Pictures as a case study, this program probes the economics of mainstream filmmaking
and surveys Hollywood's past era of movie moguls and contract players and directors.
NARRATOR: Peter Coyote
8) Film in the Television Age
This program explores the relationship between film and television, from the studios' initial fear
of television and the rise of the Hollywood spectacle film to today's more integrated entertainment
industry.
NARRATOR: Cliff Robertson
9) The Film School Generation
In the 1960s and 1970s, a group of young mavericks-Francis Ford Coppola, Martin Scorsese, Steven
Spielberg, and others-tried to revolutionize the way American films were made and appreciated. This
program explores the financial and cultural forces that made their success possible; the influence
of classical Hollywood genres and new technology on their work; and their continuing evolution as
idiosyncratic filmmakers with commercial clout.
NARRATOR: Mark Heenahan
10) The Edge of Hollywood
Contemporary American independent cinema provides a forum for dissenting, unconventional filmmakers,
many of whom are from minority communities. This program looks at the work of Spike Lee, Joel and
Ethan Coen, Jim Jarmusch, Quentin Tarrantino, and others and how limited budgets can often encourage
innovation and experimentation.
NARRATOR: Frances McDormand
Added on: 29, July, 2012
PBS American Cinema 07of10 The Studio System XviD AC3-MVGroup
10h 17m
Added on: 28, July, 2012
PBS American Cinema 06of10 The Combat Film XviD AC3-MVGroup
23h 19m
PBS American Cinema 05of10 The Western XviD AC3-MVGroup
1d 10h
Added on: 27, July, 2012
PBS American Cinema 04of10 Film Noir XviD AC3-MVGroup
2d 8h
Added on: 26, July, 2012
PBS American Cinema 03of10 Romantic Comedy XviD AC3-MVGroup
3d 31s
PBS American Cinema 02of10 The Star XviD AC3-MVGroup
3d 12h
Added on: 25, July, 2012
PBS American Cinema 01of10 The Hollywood Style XviD AC3-MVGroup
4d 2s
Faltan 3 partes, cuando las suban completo la entrada.
ENLACES/FUENTES:
http://eztv.it/forum/26603/pbs-american-cinema-01of10-the-hollywood-style-xvid-ac3/